Nursing, which I used to hate, became my life's work.
When I was in my last year of university, my professor asked me to envision my future. I said I wanted to die happily. My professor laughed, but I remain committed to that statement.
What I meant to say was that I want to help people live happy life. You can never know when your last day on earth arrives. But it arrives. You want to leave here happy. This feeling seems normal, not funny, just an expected outcome. Some people live their lives doing ordinary things, following in their parents' footsteps, so to speak.
When opportunity knocks, it might bring an extraordinary opportunity. For me, the knock was loud. I could not wait anymore, and no one would stop me from realizing my dream — to become a nurse in Canada.
There is the expectation that children care for their aging parents. It's easy when many generations live under one roof. Someone is available to provide care, companionship, and attention at any hour. Because they lived at home, seniors might have felt independent. What's practical, though, may not blend well in a different culture. Let's consider care from two points of view, familial and institutional. In its simplest sense, at-home care promotes consistent, ongoing, and adjusted care throughout life's stages. Hospital care is regulated, urgent, and necessitated when the body needs treatment.
Everyone has his or her limits, and I had determined mine. No more would I permit a capable elder to give up their independence. I had seen this loss in my family and among the patients, I cared for.
Canada gave me three challenges:
1. Educate Japanese seniors about their medical options.
2. Realize my own expectations about a culturally different medical system.
3. Become unconventional in my desire to help you take your last peaceful breath at home.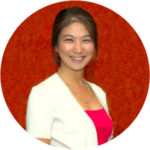 Registered Nurse in Canada, Master in Education
Yuko brings her global experience as a practitioner, an advocate, and a student. She earned a Master of Arts (M.A.) in Education from Université Laval, Quebec and a Bachelor of Science (B.Sc.) in Nursing from Tokyo Medical and Dental University. Her professional accomplishments include promoting healthcare to villagers in Cambodia, doing research about international nursing, and delivering palliative care and acute care in Canada. After working in hospitals as a registered nurse and in the community as a supervisor, she discovered another passion. Advocacy! As an elder planning counselor, she promotes giving care at home. Nikoniko Home Care is Yuko's dream company. It's easy to see why. It's where smiles abound and love matters!